Collaborative Teacher Efficacy vs Individual Efforts… | Teacher Learning Networks
See on Scoop.it – Leader of Pedagogy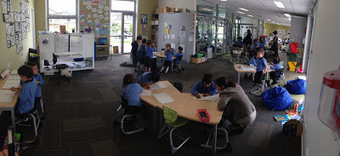 Listening to teachers talk about teaching in a collaborative learning space – three teachers and up to 90 students as opposed to one teacher and 30 students – and one is struck by how much 'we' there is in the teacher voice. There is a firm belief that as a team, they are able to shift student outcomes, raise achievement, and meet the needs of a diverse range of learners. Teachers often cite examples of the advantage of working and teaching together:
Read more in the article…
Ness Crouch's insight:
This is a great article. It has really helped me when in my Leader of Pedagogy position. The dicsussions and language used between these teachers is a great guide for me when I'm observing and talking with teachers about collaboration.