Scientists Capture Rare Photographs of Red Lightning
See on Scoop.it – Science for Kids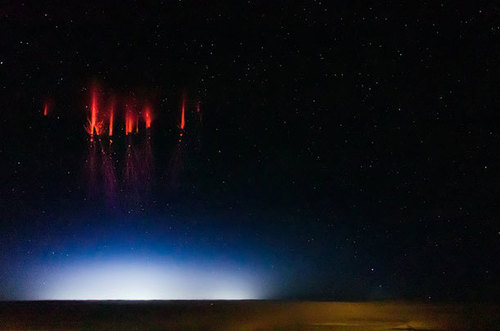 Sprites, also known as red lightning, are electrical discharges that appear as bursts of red light above clouds during thunderstorms.Because the weather phenomenon is so fleeting (sprites flash for just milliseconds) and for the most part not visible from the ground, they are difficult to observe and even more difficult to photograph, rather like the mischievous air spirits of the fantasy realm that they're named for. Ahrns and his colleagues, however, have captured extremely rare photographs of the red lightning, using DSLR cameras and high speed video cameras positioned in the plane's window. The researchers hope to learn more about the physical and chemical processes that give rise to sprites and other forms of upper atmospheric lightning.
What's it like to capture images of some of nature's most short-lived and erratic features? I questioned Ahrns over email, and he explained what sprites are, why they occur, how scientists find them and why he's so interested in the elusive phenomena.
A sprite is a kind of upper atmosphere electrical discharge associated with thunderstorms. A large electric field, generated by some lightning strokes, ionizes the air high above the cloud, which then emits the light we see in the pictures. They obviously beg comparison to the regular lightning bolts we see all the time, but I like to point out that the sprites are much higher, with the tops reaching up to around 100 kilometers, and higher. A lightning bolt might stretch around 10 kilometers from the cloud to the ground, but a sprite can reach 50 kilometers tall.
See on blogs.smithsonianmag.com